Available Tours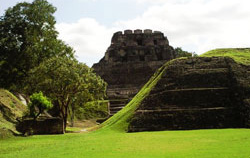 Xunantunich is the country's finest Mayan ruin and is situated 6 miles west of Cahal Pech Village. It is easily accessible and is reached by crossing a hand cranked ferry.
It's main temple El Castillo looms 39m above the plaza level and gives a spectacular view of the surrounding jungle and the town of Melchor in Guatemala.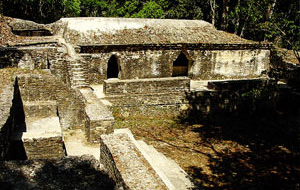 The royal Mayan Ruin from which the resort takes it name is only 5 minutes walk from our front door. It is considered to be one of the oldest Mayan settlements in Belize and dates back to about 1,500 B.C.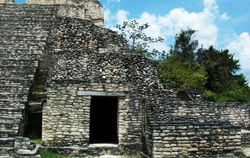 Caracol Maya Ruins is located in the Cayo District, deep in the jungles of the Chiquibul Reserve and the tour includes a visit to the on site museum that hosts the ancient artifacts narrating the story of Caracol in it's era.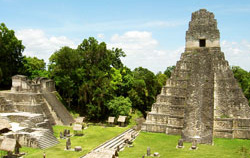 It is one of the major sites of the Mayan civilization, located in the rainforest of central Peten in Guatemala. Easy access to this Mayan site from the Cahal Pech Village Resort since it is only two hours drive away from the Western border of Belize.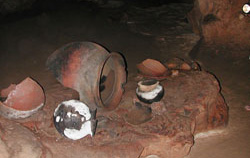 This cave system consists of a series of chambers, ending in a 300 by 50 meters Cathedral, where sacrificial ceremonies took place. Here you will be exposed to individuals sacrificed to the Gods of the Underworld.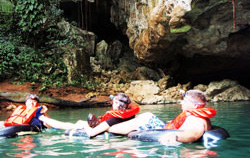 Hike through the jungle and enjoy the tropical rainforest and then as you float down the Caves Branch River, experience the thrill of passing through a cave system that was one used by the Mayas for rituals and ceremonies.
Barton Creek Cave, Blue Hole Drop, El Pilar Maya Ruins, Mountain Pine Ridge, River Canoeing, Bird Watching, Horseback Riding, Butterfly Farm Tour, Belize Botanic Garden Tour, Zip Line Tour
Map view for
Cahal Pech Village Resort
Cahal Pech Village Resort is located in the Cayo District, west of Belize City in San Ignacio.