Available Tours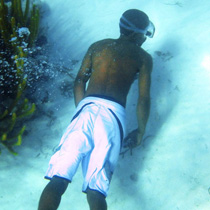 After breakfast you will meet your guide either at Villa Verano or the marina and the adventures will begin with a tour through the Belize Cayes – a chain of islands just offshore of Belize's coast and proceed through the cayes to the barrier reef. At the reef your guide will swim along with you and point out the many sea creatures that inhabit this massive reef system including lobsters, eels, nurse sharks and often several varieties of rays.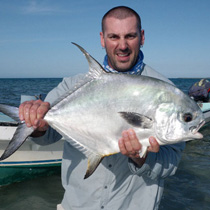 Enjoy a half or full day of Belize fishing. You and your buddies will be picked up at the beach or marina and will be fishing within half an hour! You will catch dinner fish such as barracuda, grouper, snapper and more. And depending on the season, you may have the chance to dive for lobster or conch! Your catch can be filleted for you so it is ready to be grilled that evening.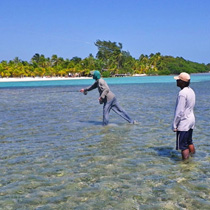 Enjoy some of the best Permit fly fishing in the world! We take you to an area known as "Permit Alley" and once you are there, you will understand why people are obsessed with Belize fishing trips. Five to twelve quality shots at permit per day are the norm. There are also tarpon, bonefish, jack, tuna, mackerel and barracuda. Half and full day trips are available.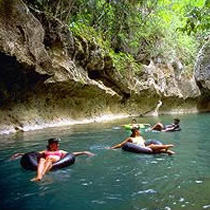 This tour combines cave tubing and cave exploration. These caves are mind boggling in their scope of well preserved artifacts with ancient Maya ceremonial centers, pottery, alters, obsidian blood letting blades, jade and the actual footprints of the Shaman and Priests, dated to 400 A.D.,- a veritable living museum where the past can still be experienced in its natural location. Spectacular crystal formations over 5 million years old cast eerie shadows into the black abyss as you explore and experience the most sacred area of the ancient Maya. Massive cathedral sized chambers dwarf you as you pass through by foot and on inner tubes.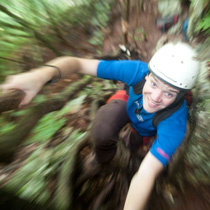 The longest zip line in Belize, Bocawina is located in the Mayflower Bocawina National Park, just a 45 minute drive from Villa Verano. The tour includes transportation, park entry fees, expertly trained guides, equipment and refreshments. Once fitted with your harness and safety equipment you will hike to the first of twelve platforms varying in height from several feet to over 50 feet. The zip lines, too, vary in length from 500 feet to the longest in the country at 2,000 feet! Zipping through the jungle canopy is both a thrill and a stunning opportunity to witness the lush beauty the tropical rainforest offers.
Your day begins with a 2.5 hour drive up the Hummingbird & Western Highways into Belize's western district. The Hummingbird Highway is considered Belize's most scenic drive, winding its way through the Maya Mountains. We will cross the Macal River on a fascinating, hand-cranked ferry to access the large Mayan site known as Xunantunich. This stunning ruin has several plazas and a large selection of classic period structures. Those ambitious enough to hike to the top of El Castillo, the tallest structure on the site, will be rewarded with panoramic views of both Belize and Guatemala.
Chocolate Tour, Maya Wellness, Waterfall Rappelling, Birds of Paradise, Horseback Riding, Monkey River Tour, Evening Lagoon - Bio Luminescent Tour
Map view for
Villa Verano
Villa Verano is located near Dangriga, south of Belize City on the mainland coast of Belize in Hopkins Village.